What makes public art so provocative? As our reputation for being an important street art destination continues to grow, new pieces by important homegrown and international visual artists are becoming a part of the urban landscape. A once taboo occurrence, independent public art in all its aspects and manifestations is now one of the most popular global art phenomena. But although the mainstream acceptance of these pieces has made life easier for the artists, India is still finding her place in the revolution.
One of the best in the business is New Delhi-based Anpu Varkey. We caught up with her to learn more about her murals:
Let's start with the basics. What inspires your work?
Cumulus clouds, arid mountains, heights and time travel.
What tools do you use?
Brush, rollers, spray paints, acrylic sheets, acrylic emulsion, chalk, tape, nails, music, rope, and levitation.
Because street art has such a peculiar place in public perception, do you still wield it as a tool for self-expression?
Less self-expression more self-exploration. The streets are dynamic, thinking of a larger audience and a common consciousness is how I delve into making artworks in public spaces. To somehow usurp their mind for a fraction of two seconds and unify it within the cosmos.
India is a place that's currently at odds — old clashes with new on a daily basis. Does this reflect in your work at all?
No. I'm interested in tapping the collective consciousness, something that can be reconfigured within everyone's psyche irrespective of their cultural, political, nihilistic ideologies.
Have the places you've lived — Baroda, London, Bremen, New Delhi — influenced your style?
I haven't honed a style, but I bring back everything I've perceived and learned from every place I've been to.
What do you find yourself trying to communicate through your work?
That we are one within this cosmos, colors and patterns electrify our retina to feel infinite.
Do you prefer starting with a blank slate or do you surround yourself with inspiration?
Blank slate. I don't tire with the struggle, the uncertainty is the allure.
What do you think would greatly help your process?
Steady scaffolding and ladders, water, and a toilet!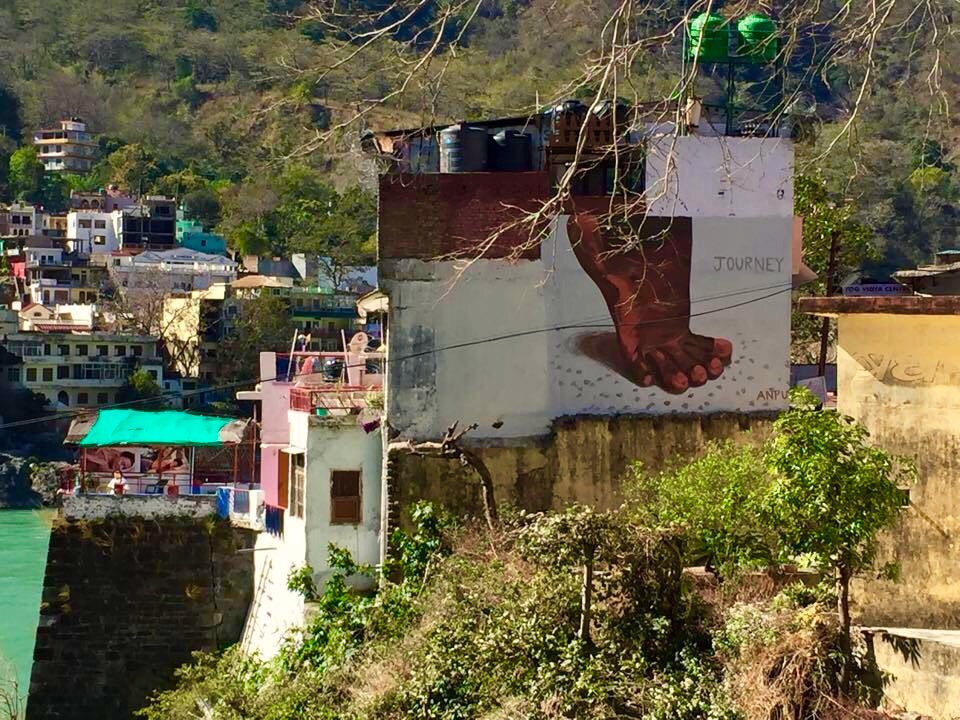 Your work with St+Art India Foundation was fantastic. What projects from your past are you most proud of and why?
I worked on a piece called Journey at the Rishikesh Street Art Festival in 2015. It was a community-driven project, and Mansi who was the organizer, had us all staying in an ashram. We had food stamps for meals and everyone was treated without prejudice. The community supported the organizers by donating paint, free food and stay, this was unparalleled to anywhere I've been to.
What is your best piece of advice for staying creative?
Be curious.
---
Images by Kazune Yahikozawa and Mansi Thapliyal, in order of appearance.