Whether it's a basic t-shirt or a pair of crisp trousers, there's one thing we can all agree on – the secret sauce is the fabric.
Creating apparel from seed to garment, Delhi-based Rikki Kher works to expand the scope and boundaries of handwork. Each piece in his brand Kardo's collection is made one at a time by a tailor who stitches the item from start to finish. It's a labor-intensive process, but one that assures quality of craft and construction. When asked about what fuels his process, he says, "I travel a lot for pleasure and work. It keeps my eyes open to the world and what I see around me inspires my creative ideas. Also, travel gives me mental space to think."
To learn more, read on:
What are some of your earliest memories of being creative?
Making posters for the school plays when I was about 10.
What is your past experience in textile design?
I started working as a textile converter in London a couple of years after being in New York. I was always interested in fabrics and how they work for us in fashion, as well as other uses. My family has always been involved in textiles and the textile world was around me from a very early age.
What was the most important thing you learned before you went out on your own?
I have pretty much always worked for myself. But I learned early on that if you don't try you simply can't succeed, so you have to actually just do it. Plus you have to work extremely hard. Not hours spent at your desk, but hours spent in the pursuit of your goal. And keep your eyes open to what is around you.
Could you tell us a bit about the creative process? What does one design look like start to finish?
We always start the process of a collection from a fabric. We source and develop fabrics that will then be used in a collection. Each fabric we work with has to function suitably for a particular product: shirt, trouser or jacket.
We then look at shapes and details. A shirt is a shirt. Our differentiation comes with the fabric and the detailing. We have built pattern blocks, so depending on the style, we will use a basic block and tweak it to suit the product we are making. Then we make the sample of the particular style. We have two dedicated tailors just for sampling. Once the sample is made, it goes into fitting. We will adjust it as needed, and then its set for the collection.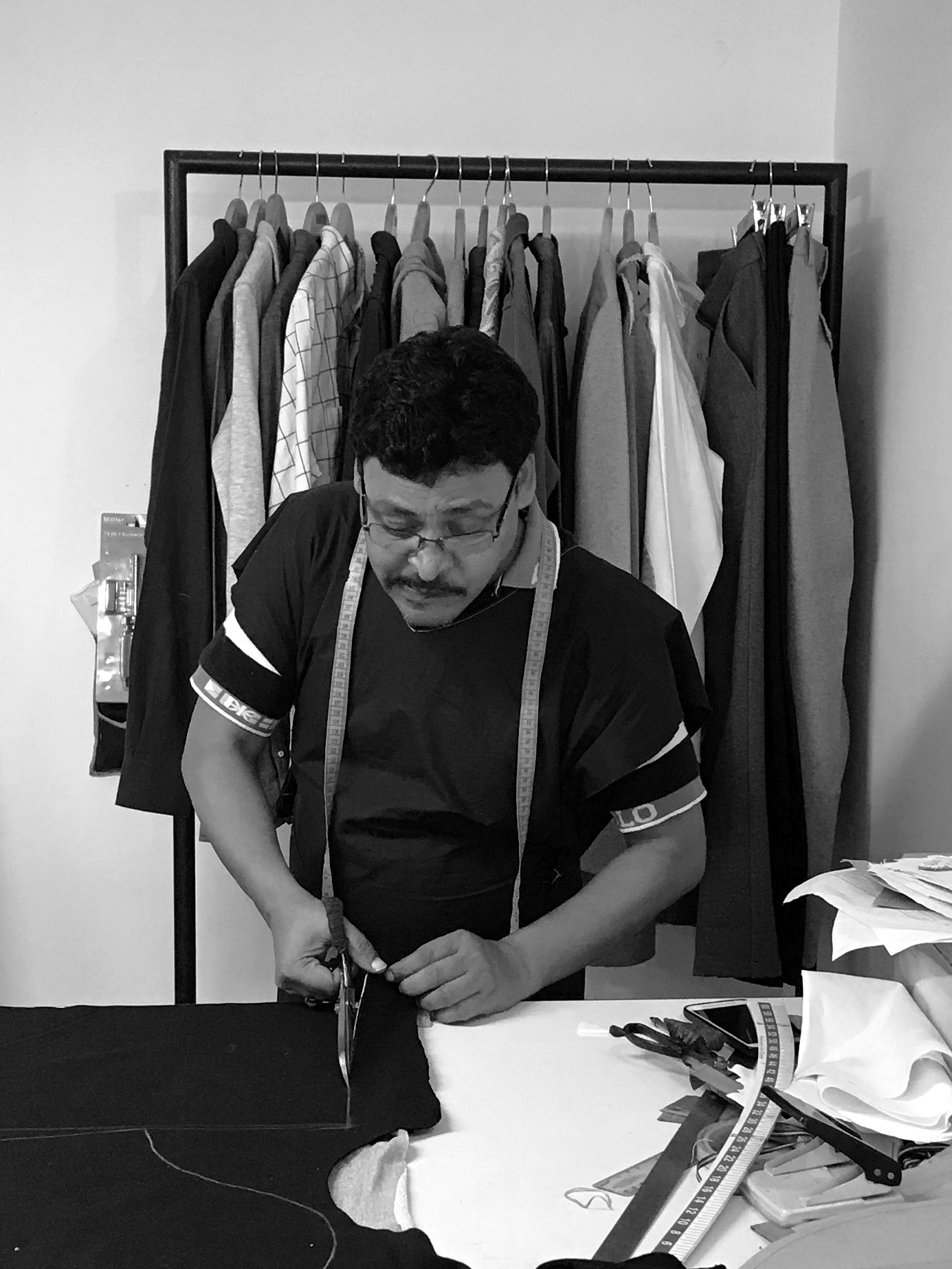 How much control do you exert over each step?
At the beginning, when we started the brand, I took complete control of every step. I wanted my team to understand the philosophy behind why we were making the clothes or doing what we were doing. The attention to minute details, the complete removal of a laissez-faire attitude to the process, the design, the craftsmanship and final presentation.
It took a while for everyone to understand and follow the same standard, but now its ingrained in the philosophy of the company, so each person understands what's required. I have finally been able to reduce the micromanagement. But it's hard to motivate people to take responsibility, as there is no culture of autonomy in the workplace here. So there is a constant push for the team to "own" their jobs.
What is the hardest thing about your job?
To balance between creativity and managing a business that actually makes money.
What's an example of you, or your craftsmen, running with their imagination?
My master works on new patterns and the minute details given to him for new collections. He sometimes runs with those and great new pieces come out in the collection such as a new collar, a pocket detail or an improved color.
How much do you think other creative forms influence your designs?
They are essential! I can't exist without music or art. They are abstract forms of creative expression that inform all that I do.
How does your personal aesthetic fit into your designs?
Kardo's aesthetic is my aesthetic.
How do you see Kardo evolving in the near future?
We want the brand to continue to grow in the USA and also to gain a foothold in Europe. We are also re-establishing an e-commerce site which we see as an important step in our evolution.
What's the best way to cut through the noise?
Travel. Run. Read. Laugh. Avoid taking yourself too seriously.
---
Images by Kardo.