Whether you're hunting for thrifty finds or saving up for statement pieces, what you wear filters down to an understanding of who you are. The connection between clothing and creative expression is one that often lingers in the background, temporal but tangible.
For Tanya Mehta, Mumbai-based writer at fashion magazine Grazia, the cities she's lived in have played a huge role in defining her personal style. "It's so strange that something considered so notoriously superficial is still a part of each an every one of us. At daybreak we all put on a piece of clothing with a unique thought process that subliminally becomes our identity," she says. "It took me a generous amount of time to realize that fashion wasn't about the cacophony of changing trends that leaped up from magazine pages each month, it wasn't about the ravenous hunger to acquire the 'IT' item of the season, it was about style – something inherent, yet acquired."
PARIS: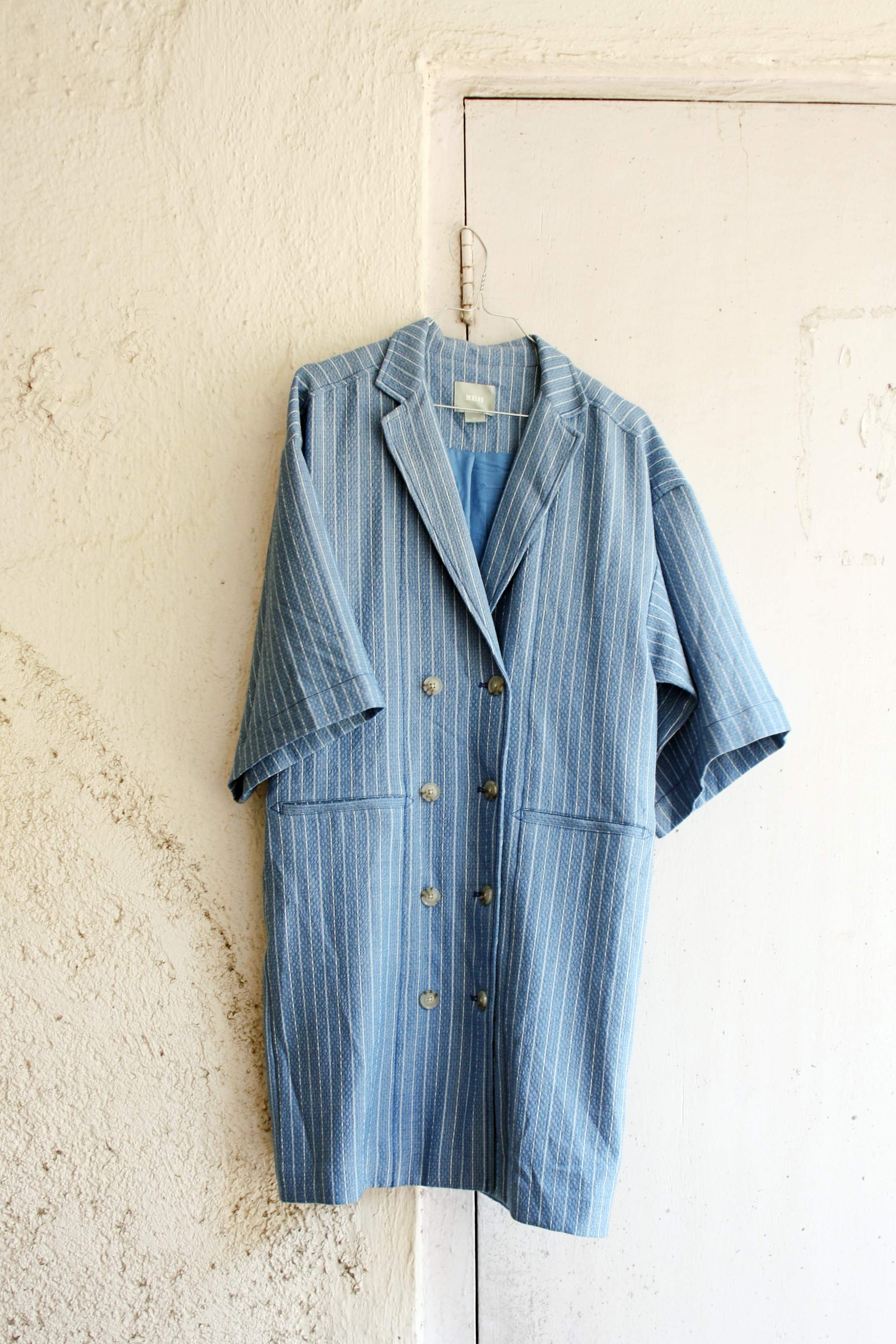 For those who think the people in Paris are rude, it's probably true. Paris and its population are a curious paradox – on one hand, it's that high hoisted glossy bag that you can only lust after with your palms pressed against the store window – inaccessible and dream-like. On the other hand, it's the bourgeois cauldron-full of faded red lipstick, prosaic tweed coats and the lingering scent of cigarettes.
As a young student in Paris, fresh off the boat, I did myself a favor and eliminated the anticipated romanticism associated with the city. Paris is insular. Paris is expensive. The only things I bought were cheap clothes from H&M while I made soul-crushing visits to Galeries Lafayette where I certainly couldn't afford anything.
My dressing sense was colorful and I stuck out like a sore chartreuse thumb amidst the sea of chic blacks and greys – which seemed quite drab to me then. Parisian style is nonchalance personified. It's about that broaderie anglaise summer dress that you've worn for several summers, your boyfriend's plaid shirt casually tied around your waist and that lick of mascara you put on 10 seconds before you dashed out of your apartment.
I never made any noteworthy purchases in this supposed fashion capital save for this pinstriped jacket I found at an obscure store, a rather pared down choice in light of my former sartorial choices. This jacket strangely resonated with me, the odd androgyny and languid proportions somehow made a mundane jeans and tee ensemble seem not so mundane. Even as an outsider, for the hasty days I shrug this on, it reminds me of all those women on the metro that seemed so well put together yet perfectly undone.
CHINA: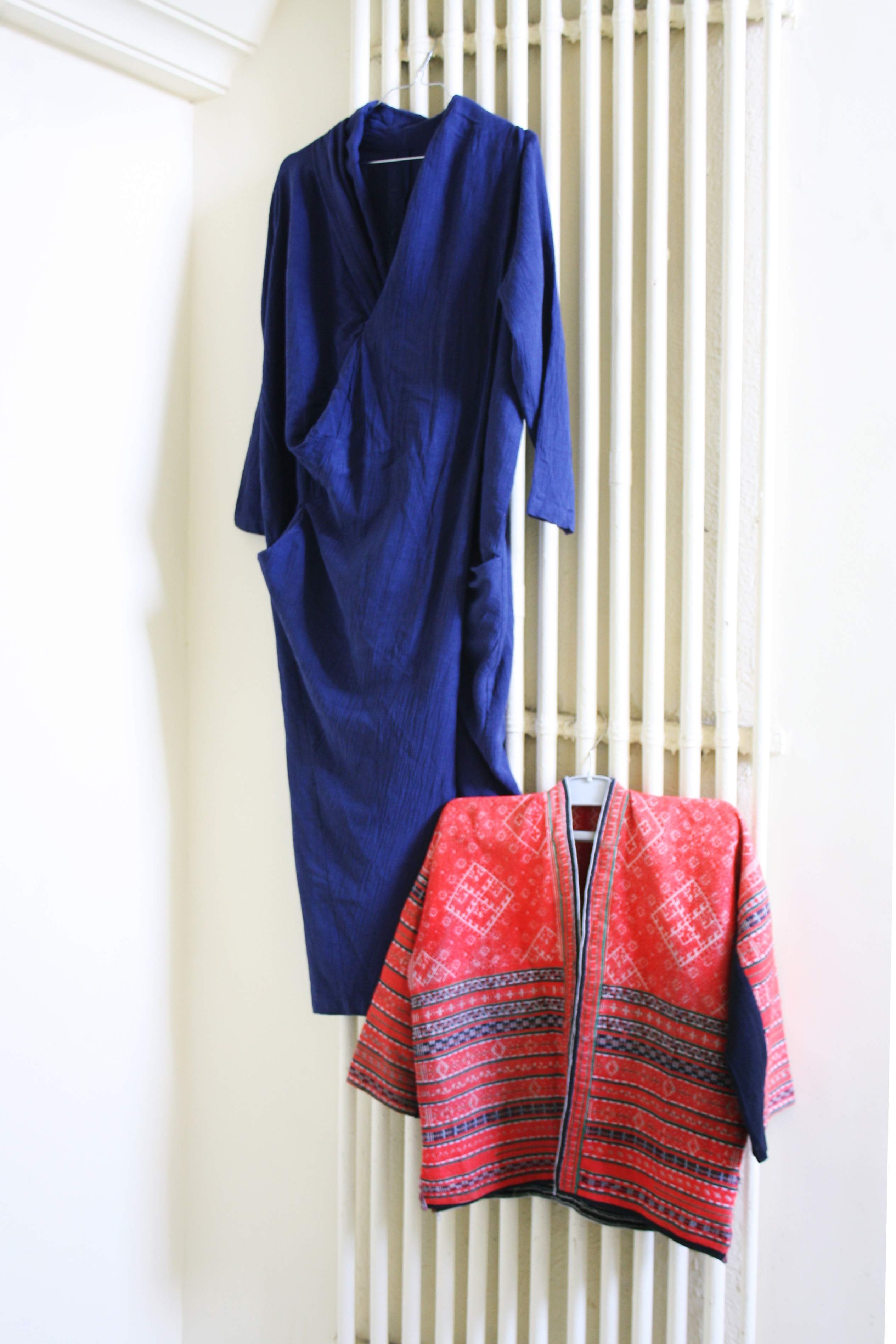 China can conjure innumerable thoughts for somebody staying there for the first time and in all honesty, I was every bit skeptical, when I arrived in Shanghai I had never witnessed a more luxury oriented and band conscious consumer.
Issey Miyake Bao Bao totes, Fendi 'Karlitos' and gargantuan Burberry bags all trotted beside me in the buzzing metropolis. Infamous for its mass counterfeit industry it wasn't soon before my classmates were lured into buying armloads of fake Chloes and Celines. Not one to join the cult, I felt rather dejected when all the shopping trips to monumental malls only consisted of cheap, mass-produced clothes.
On one such dizzying retail excursion, I caught the sight of this indigo linen dress catching dust at the end of the rack. When I fished it out, it seemed odd against the acidic prints and bling around. There was something monastic about it, something sterile, like a robe. With a high chance of resembling a potato sack, I still bought it. I cinch it up with a belt and it has been a great companion on those balmy days when I'm facing a severe wardrobe crisis.
The jacket was discovered on a highly adventurous trip to the remote village of Dazhai in China. On several treks, through the winding mountainous region, I saw intricately embroidered fuchsia jackets hanging to dry on clotheslines and many worn by the local women. Enamored by the craftsmanship I bought this saffron-hued jacket off the jovial Chinese lady whose house we were staying at. It was well-worn, faded and had the smokey fragrance of burnt wood from the evening bonfires. We negotiated a price of several rounds of google translate. I never washed that jacket in hopes for it to retain its original scent, it became my special version of 'Made in China.'
NEW YORK: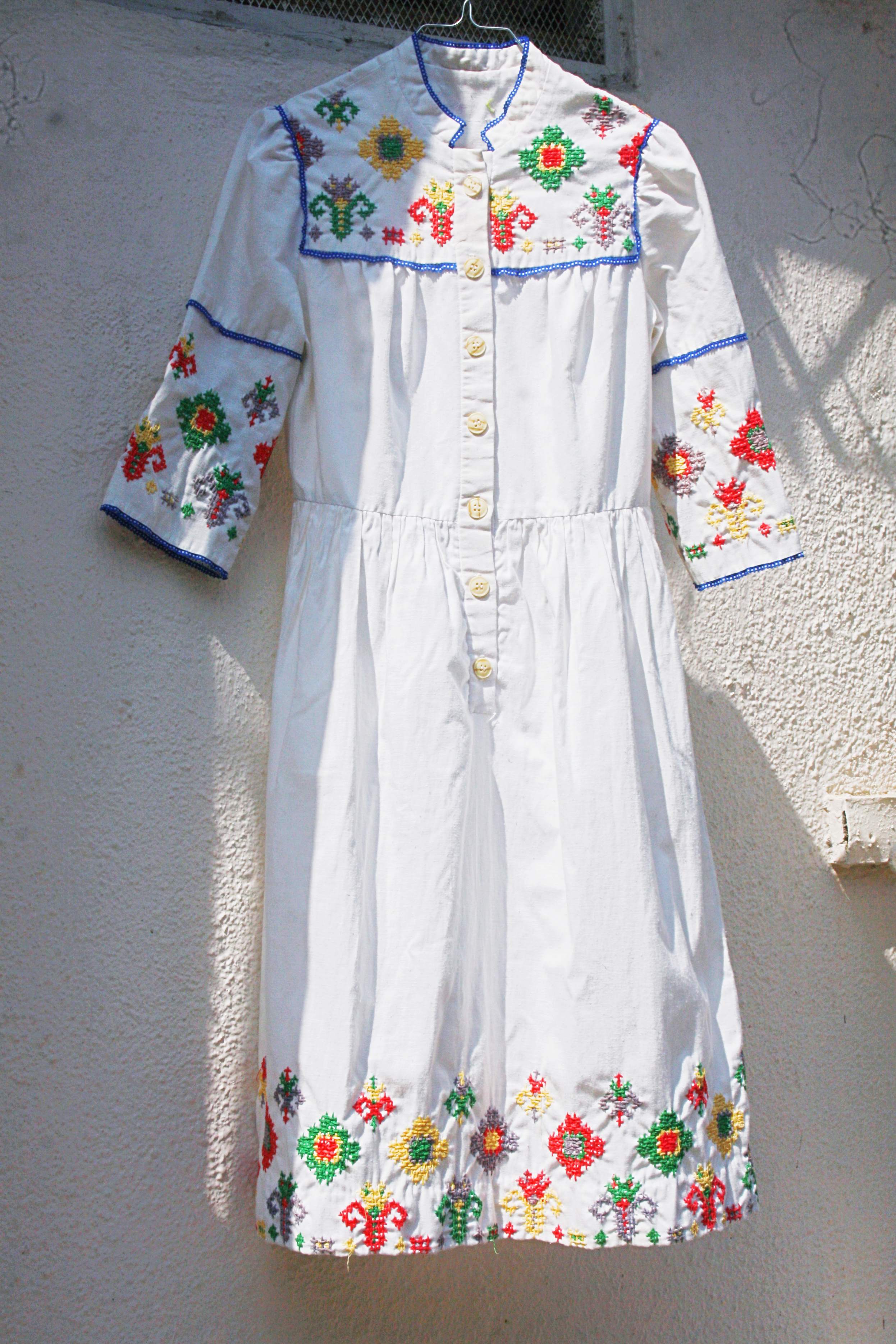 New York is graphic and people watching is a treat. Spend an hour staring out of a cafe window and you'll see the most diverse and unabashed style, it's almost schizophrenic. This place is a second home to me but it took several years for me to evolve sartorially, all I ever associated with it was the giddying rush of excessive consumerism from trips to Macy's and outlet malls.
It's only in my recent adult years have I truly experienced what the city has to offer – a treasure trove of vintage and thrift stores. Thrifting isn't for everyone, my mother still frowns upon the concept of paying for 'second-hand' clothing but for me, it was so much more. It was about the texture, the hidden stories and the complete lack of those indigenous cuts and embroidery in the clothes we buy today.
Going to these stores for me is above average retail therapy, it's about rummaging through racks of archaic garments to find something that induces a gleeful gasp. I found this cross-stitch dress at Beacon's Closet, one of my favorite vintage stores. Upon the first glance, it looked a bit mumsy but there was something about the modesty and pristine aesthetic that made me time-travel for a moment. It's not the most rad dress girls my age wear, but then again, I'll probably wear it with equal delight when I'm forty.
---
Published as part of our Rule Of Three series.
Images by Dhanush Patel and Jessica Kilbane, in order of appearance.
Words by Tanya Mehta.